Graham Hughes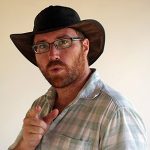 Graham David Hughes is a British adventurer, filmmaker, television presenter and Guinness World Record holder. Hughes was the first person to visit all 193 United Nations member states and several other territories across the world without flying. He did so over a period of nearly four years and completed the task in November 2012. While on his journey he presented the television program Graham's World on the National Geographic Adventure channel, a weekly look into his ongoing quest to break multiple world records by visiting every country on earth without flying.
The Odyssey Expedition spanned 1,492 days and over 220 countries and territories… so much material it's far too much to cram into one book so it is being published in 3 volumes!
"Man of the World" covers the first year of The Odyssey Expedition, beginning in Uruguay on January 1 and ending 138 countries and territories later at the Egyptian pyramids on December 31. Highlights include being arrested on the Russian border, braving a leaky wooden canoe over 600km of open ocean and two stints in two separate African jails.
"Top of the World" covers the second year of The Odyssey Expedition, from Egypt to Australia via every country in Asia and then some. Highlights include getting into a snowball fight in Iraq, hanging with Maoist rebels in Nepal and being rescued from Islamic fundamentalists by a ladyboy named Jem.
"End of the World" rounds off the Odyssey trilogy with a lively and fast-paced account of the last two years of the expedition, from Australia, around the Pacific and back to the UK via South Sudan. Highlights include coming face-to-face with the most deadly snake in the world, swimming with the famous jellyfish of Palau and scaling the Great Pyramid of Giza under cover of darkness.
Discover The True Flavour of Brexit with The Great Brexit Cookbook. Whether you voted for your grandchildren to feel the icy chill and gnawing hunger of (what we thought were) bygone winters because you hate them, or because you were too stupid to see how you were being played like a cheap piano by the privately-educated elite, this book is for you!
Coming Soon: Trump! Brexit! Russia! The world is going to hell! Get Out While You Can: Your Guide to Escaping into the World is a bright and breezy compendium of what Graham learnt on his travels over the years. Packed with hints, tips and humorous asides and aimed at those thinking of taking a gap year, going on a road-trip or trying to escape into the world while there is still time to get out there.