Man of the World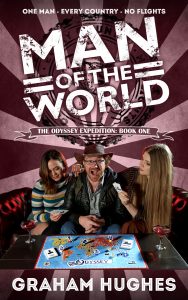 The Odyssey Expedition is the true story of the first successful expedition to every sovereign nation on Earth without flying by famed travel adventurer Graham Hughes! The expedition spanned 1,492 days (that's over 4 years) and over 220 countries and territories (all 193 members of the United Nations and then some). He did it alone, on a shoestring budget and with no professional support (save that of his incredible friends and family). Along the way he made an eight-part TV show for Lonely Planet which has been shown around the world on the National Geographic Adventure channel and the Travel Channel. And he even set a new Guinness World Record (in fact two).
It is a lot of places, a lot of traveling, a lot of things that went wrong, a few things that went right, and a lot of hilarious anecdotes. With too much to cram into one book The Odyssey Expedition is being published in 3 volumes!
"Man of the World: Book 1 of The Odyssey Expedition" covers the first year of The Odyssey Expedition, beginning in Uruguay on January 1 and ending 138 countries and territories later at the Egyptian pyramids on December 31. Highlights include being arrested on the Russian border, braving a leaky wooden canoe over 600km of open ocean and two stints in two separate African jails!
Pre-release specials!
In October the book will be "officially" released and available in all of the standard print and ebook marketplaces (and maybe even a bookshop or two). But as a thank you to all the loyal supporters of Team Odyssey, Graham is allowing books to be purchased BEFORE the official release.  Please note, signed books are ONLY available for residents of the UK, unsigned editions are available however for the rest of the world.
Signed United Kingdom Exclusive!
£22.99 + £3.50 p+p (personally signed Graham Hughes!):
---
Ebooks Coming soon: