Cleveland Play House Projects
ATBOSH Media Ltd. developed a series of educational iPad apps for The Cleveland Play House's Compassionate Arts Remaking Education (C.A.R.E.) program. The apps were made possible by the Arts in Education Model Development and Dissemination (AEMDD) grant from the U.S. Department of Education and are distributed to the app store by Lemming Labs Limited.
If you have an iPad you can download them directly from the app store.
---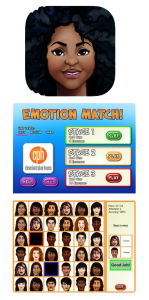 EmotionMatch! – (iPad app link) is a simple matching game. Select one face and then select another that matches it. Race and gender don't matter – just try and match the emotions.
There are 14 different faces for each of the 16 different emotions!
There are 3 hint levels you can choose from.
Easy – tells you what the emotion is before you try to match it.
Medium – Tells you what the emotion is after you picked the match.
Hard – Tells you the emotion only if you get it right!
Try to clear the board with the fewest number of tries!
If you get a 50% accuracy rating the game will show you your time!
---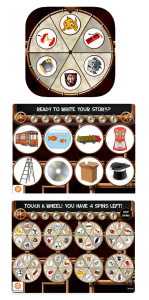 Story Wheels – (iPad app link) is a tool for inspiring stories. To start you decide how many wheels in your story and then choose 3 to 8 wheels. The wheels are created from over 1,100 different images of people, places, and things. The wheels spin and you get a few re-spins to perfect your story wheels. Then you get to write your story and save your story wheels.
---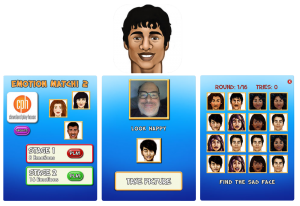 Emotion & Me aka Emotion Match! 2 – (iPad app link) is a matching game designed to help players identify emotions, but in this game you get to make the faces yourselves or even with a friend! Before the game is played, you decide if you are going to match your own face, a friend's face, or the built in drawings. You are prompted to pose for each emotion and then the game begins. Try to match the emotion to the face!
There are 14 different built in faces for each of the 16 different emotions!
Try to match the faces with the fewest number of tries!
---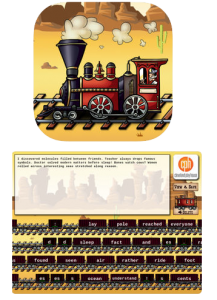 Text Train – (iPad app link) is an app for writing poetry and stories.
First, select which word pool that you want to work from:
The Level 1 word pool contains 236 sight words.
–The 236 words used in Dr. Seuss' The Cat in The Hat.
The Level 2 word pool contains the 315 Dolce sight words for K-3rd grade.
–Developed by Dr. Edward William Dolch in 1936.
The Level 3 word pool contains the 1,000 Fry sight words for 3rd-9th grade.
–Developed by Dr. Edward B Fry in the 1950s.
The Level 4 word pool contains over 8,700 words
–The Merriam-Webster Learner's Dictionary augmented with several other lists of nouns, pronouns, numbers, adjectives, adverbs, verbs, prepositions, conjunctions, interjections!, and some frequently used essential core words.
Each word pool affords its own experience and challenges and you are encouraged to try them all.
Remember, if you don't know what a word means or don't want to use it – just don't use it!
Watch as the trains move across the tracks carrying different words. To add a word to your story simply touch it. Keep adding words. You can add a variety of punctuation marks too! If you don't like a word you chose, you can always touch the Caboose to delete the last item added.
Be patient, new words are always coming around the bend!
The word pools contain verbs in many different tenses, the nouns tend to be singular. Every so often you will see an S, an ES. or an 'S roll by. These can be used to create a plural or a possessive as needed. Just be careful not to make words that don't exist!
---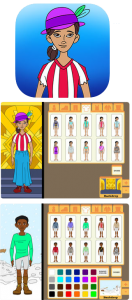 Costume Maker (iPad app link) is allows you to select an actor (or two) and place them against a backdrop and configure their costume in an almost infinite number of combinations. The final composition can be saved, emailed, and even shared across social media!
We don't exaggerate when we say an almost infinite number of combinations. For each piece of clothing there are 9 choices (plus an option not to have one), in addition to it's original color it can be colored in one of 24 different ways which creates the possibility of 226 options for each clothing layer.
With 6 different clothing layers that creates 133,244,912,166,976 (one hundred thirty-three trillion, two hundred forty-four billion, nine hundred twelve million, one hundred sixty-six thousand, nine hundred seventy-six) costume combinations for each gender!
These costumes (per gender) can be placed on an actor of one of 6 different races resulting in a possible 799,469,473,001,856 (seven hundred ninety-nine trillion, four hundred sixty-nine billion, four hundred seventy-three million, one thousand, eight hundred fifty-six) combinations of costumed actors per gender.
These actors can be placed on the stage in 6 different combinations (single or double) for a possible 4,796,816,838,011,136 (four quadrillion, seven hundred ninety-six trillion, eight hundred sixteen billion, eight hundred thirty-eight million, eleven thousand, one hundred thirty-six) stagings!
And with 11 different backdrops to choose from that means there are 52,764,985,218,122,496(fifty-two quadrillion, seven hundred sixty-four trillion, nine hundred eighty-five billion, two hundred eighteen million, one hundred twenty-two thousand, four hundred ninety-six) possible outcomes in the Costume Maker!*
*Some clothing items obscure other clothing items and not all combinations will be as exciting as others – but these are all the possible combinations possible in the app!
---