The Paul and Alice Prye Mystery Trilogy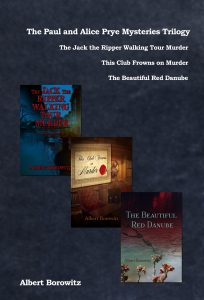 The Paul and Alice Prye Mystery Trilogy by Al Borowitz
For the first time, all 3 Paul and Alice Prye mysteries are published in paperback (and in a single volume).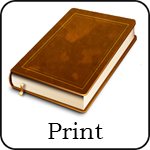 Book 1 of the The Paul and Alice Prye Mysteries: The Jack the Ripper Walking Tour Murder

London, August 1988. Paul Prye, Columbia University professor and true crime nut, and his wife Alice, art historian but a devotee of Agatha Christie, were in town for the centennial of Jack the Ripper's bloody crimes. Paul was meeting a group of fellow crime enthusiasts near the Tower Hill tube station to embark on a walking tour that would retrace the scenes of Jack the Ripper's slaughters, of exactly one hundred years ago.
Then one of the group was murdered. Or so Paul Prye believed-though there were witnesses who believed the whole thing was an accident. Paul Prye brought all the true crime lore he'd acquired over the years to bear on the case and even convinced New Scotland Yard that the accident was no accident.
This is an engaging, and educational novel, which will delight London lovers, true crime addicts, mystery novel readers-and, above all, the many, many people who are fascinated, almost as fascinated as the Pryes, by Jack the Ripper.
Book 2 of the The Paul and Alice Prye Mysteries: This Club Frowns on Murder
"Dear Mrs. Richardson, I must let you know how I, and all the members of the Alumni Club, sympathize with you in John's untimely death."
In a time of sorrow such a note would be a welcome expression of condolence, but since John Richardson is very much alive when the note arrives, it's a bit disconcerting to his wife. Soon several members of the posh, exclusive, old world New York Alumni Club storm through its venerable portals waving similar notes. It appears that some disgruntled club member with a very macabre sense of humour is engaging in a little vicious fun. The humour quickly evaporates, however, when one of the club's members "accidentally" falls from a balcony. This prankster is in deadly earnest.
When true-crime historian Paul Prye and his wife Alice come to stay at the Club, their expert help is enlisted and they begin to make discreet inquiries about the poison-pen condolence letters. Paul soon discovers that beneath the placid, cultured surface of the Alumni Club whirls a maelstrom; old grudges, embarrassing secrets, and some implacable hatreds add up to something most definitely not in the membership rules — murder.
Book 3 of the The Paul and Alice Prye Mysteries: The Beautiful Red Danube
In this third Prye novel, the Pryes take a Danube cruise and find murder on their route.  They encounter unwanted assistance from a Russian detective along the way.