Linda C. Ehrlich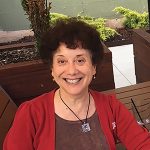 Dr. Linda C. Ehrlich has written extensively about art cinema, and about traditional theatre (of Asia).  Her collection of prose poetry on world cinema Cinematic Reveries: Gestures, Stillness, Water was published by Peter Lang (2013). She has also published poetry in International Poetry Review, Southern Poetry Review, The Bitter Oleander, Literary Arts Hawaii, Puppetry International, and Tributaries, among other journals. Her poetry collections include: In the Breathing Time, Night Harbour, Bodegón/Still Life, The Girl who Turned into a Tree, and Yamamba's Mountains (designed by Horse and Buggy Press, Durham, NC).
She has presented poetry readings in Spain, Japan, Hawaii, the Semester at Sea voyage, and the Innisfree poetry bookstore (Boulder, Colorado).
Her commentary appears on the Criterion DVD of the Spanish film The Spirit of the Beehive (El espíritu de la colmena, dir. Víctor Erice) and on the 25th anniversary Blu-ray of the Japanese film Maborosi (dir. KORE-EDA Hirokazu).
She has taught at Duke University, the University of Tennessee/Knoxville, Case Western Reserve University, and on two Semester at Sea voyages.
For more information, please see: http://braidednarrative.com