Get Out While You Can!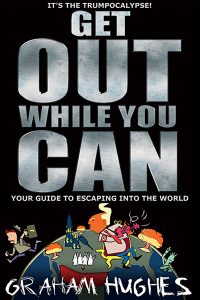 Get Out While You Can: Your Guide to Escaping into the World! by Graham Hughes
Trump! Brexit! Russia! The world is going to hell! Get Out While You Can! is a bright and breezy compendium of what Graham learnt on his travels over the years. Packed with hints, tips and humorous asides and aimed at those thinking of taking a gap year, going on a road-trip or trying to escape into the world while there is still time to get out there.
Preview the book! EPUB Preview or PDF Preview
Pre-Order your DRM Free .epub eBook now for only $6! (emailed right to you!)
Official Release Date Summer 2018

Or notify me via email when the print edition is ready.
Coming soon: