The Will of an Eccentric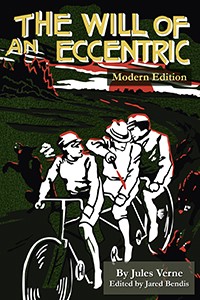 The Will of an Eccentric – Modern Edition by Jules Verne, Edited with Introduction & Notes by Jared Bendis
The year is 1897 and eccentric millionaire William J. Hypperbone has died! The terms of his will dictate 6 players be randomly chosen to compete for the $60 million inheritance. To win they have to play his favorite board game "The Noble Game of the Goose" but on a much grander scale – a race around the country in "The Noble Game of The United States of America"! Which of these brave adventurers will have the luck of the dice (and circumstance) to win "The Will of an Eccentric"?
Jules Verne's epic adventure around the United States was never published in the United States during his lifetime and this modernized edition brings this obscure book to a new generation.
This book is being pulled from sale and replaced by a new edition that is an entirely new translation. Details coming soon!
This Modern Edition is a scholarly work and not just a straight reproduction.  It has been carefully crafted and annotated to correct the many errors that existed in the original text.  As the book was first serialized there were logical inconsistencies that have now been resolved.  This along with the correction of typos, translation errors, and the modernization of obscure 19th century terms (all documented) created a thoroughly enjoyable reading experience that remains true to the Verne original.