Big Red Cookbook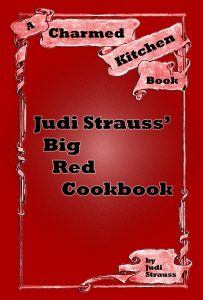 For many years Judi has sold her "Little Red Cookbooks" at her classes. Each is full of recipes and concepts on a single theme!
Now now she has taken the best 24 and is selling them as her Big Red Cookbook.
They are also individually available on Amazon as ebooks.
Print
eBook
Vol. 1 – It's Soy Wonderful: Cooking with Soy and Soy Products
Vol. 2 – Cooking With Tortillas
Vol. 3 – Vegetarian Cooking
Vol. 4 – Appetizers
Vol. 5 – Saucy Sauces
Vol. 6 – Pasta Sauces
Vol. 7 – My Mother's Polish Kitchen
Vol. 8 – Totally Terrific Tomatoes: Cooking and Canning Tomatoes
Vol. 9 – Sunday Brunch
Vol. 10 – Awash in Squash: Cooking with Summer and Winter Squash
Vol. 11 – Soup's On
Vol. 12 – Seafood Made Easy
Vol. 13 – One Pot Meals
Vol. 14 – Gifts From the Kitchen
Vol. 15 – Holiday Baking
Vol. 16 – Cupcakes: Little Cakes, Big Flavor
Vol. 17 – Cookies, Cookies and More Cookies
Vol. 18 – Coffee House Treats
Vol. 19 – Chocolate Lover's Cookbook
Vol. 20 – Chicken: Fun and Easy Recipes
Vol. 21 – Tea Time: Celebrating Tea and Tea Parties
Vol. 22 – Cooking With Apples and Pears
Vol. 23 – Bread Baking
Vol. 24 – Great Grains