Leonard Ross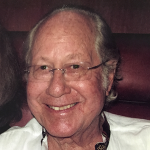 Deeply influenced by his experience in the military and secrets surrounding his Grandfather's involvement in the Russian army, Leonard Ross drew inspiration from life's adventures.
At 18 he joined the Armed Forces serving in Japan, and later in Turkey as a top secret courier for the United States. From the Navy and Air Force to building his own sailboat and living aboard it in Key West, Leonard was a dreamer who remarkably brought his visions to life. This novel, though fiction, is an elaboration from his life history and the creative imagination of one spirited man.
Leonard passed away in 2009.
The Present Past was his first and only novel.