Jules Verne
Jules Verne (1828–1905)
French author Jules Verne was born at Nantes on the 8th of February 1828. After completing his studies at the Nantes lycée, he went to Paris to study for the bar.Travel stories which he wrote for the Musée des Familles revealed to him the true direction of his talent—the delineation, of delightfully extravagant voyages and adventures to which cleverly prepared scientific and geographical details lent an air of verisimilitude. In his own particular application of plausible scientific apparatus Verne undoubtedly struck out a department for himself in the wide literary genre of voyages imaginaires.
His first success was obtained with Five Weeks in a Balloon, which he wrote for Hetzel's Magazin d'Éducation in 1862, and for a quarter of a century, scarcely a year passed in which Hetzel did not publish one or more of his fantastic stories, illustrated by pictures of the most lurid and sensational description. The most successful of these romances include: Journey to the Center of the Earth (1864), Twenty Thousand Leagues Under the Sea (1870), and Around the World in Eighty Days (1873).
His novels were translated into the various European languages—and some even into Japanese and Arabic—and had an enormous success in England. He was extremely popular in society and divided his time between Paris, his home at Amiens, and his yacht. He was a member of the Legion of Honour, and several of his romances were crowned by the French Academy. He died at Amiens on the 24th of March 1905.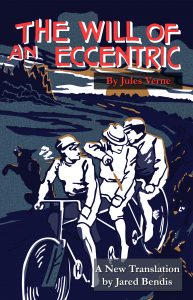 The Will of An Eccentric: A New Translation